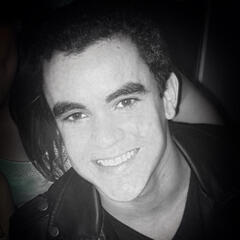 Filipe Teles
Volunteer Experience:

F1 in Schools:
During the F1 in Schools event in Marrickville High School, we played games with students which they had to use engineering concepts to build structures using a limited amount of straws and duck tapes. We talked about the importance of time and resource management in projects. Our intention was to show them real-world practices of engineering, project management, and technology, in a fun environment, to get them interested and motivated to learn more about the STEM fields.

Donate Your Eyes to Science:
Donate your eyes to science is an international project, aimed to improve how students learn and comprehend computer programs. Subjects were shown two pieces of Java code, and an eye-tracking device analyses which parts of the code they were looking at. The objectives of the experiment are to get insights into the role of expertise in program comprehension. A dataset containing recordings of eye movements of participants with varying levels of expertise will be collected.

OneSight:
OneSight is a volunteering organization that is part of Luxottica, which provides eye screening for people in third-world developing
countries and poorer regions/neighborhoods of Australia. I was part of a clinic at the Granville High School, where we screened more
than 400 kids, and 138 were diagnosed to require further examination.
Licenses & Certifications:

Certified Meraki Network Operator 2017
CCNA Routing and Switching 2015
Languages:

Native/Bilingual proficiency:
English
Portuguese
Elementary proficiency:
Spanish
Brazilian born, based in Australia.





Bachelor of Science in IT from the University of Technology, Sydney





Past experience: Python, Git, Linux, Cisco Meraki





Currently working on projects involving: JavaScript, NodeJS, ReactJS, MongoDB, MySQL





Easy-going, friendly, go-get attitude, hard-worker and always hungry.
Academic background:



Bachelor's Degree of Science in Information Technology from the University of Technology, Sydney, majoring in Enterprise Systems Development with subjects such as Applications Programming, Networking, Project Managing, System Development Methodologies.






Strong business-oriented professional with interest in both the technical aspects of technology, always exploring and practicing new technologies, as well as the business side of operations of companies, including the financial aspects of IT projects.



Work experience:

Two years of experience as Junior System Administrator at Luxottica:



-Manage networking devices such as Switches, Routers and security cameras, using Cisco Meraki software





-Remotely access software for CentOS servers and virtual machines, using Linux through the command line





-Support 200-300 digital screens across Australia and New Zealand stores, making sure the Digital Screens are connected to the content





-Network and liaising with the content publishers in Italy that the proper content is scheduled





-Diagnose servers for Hard drive issues





-Partitioning hard driver remotely to backup data





-Liaising with vendors the installation of new Hard drives and network hardware





One year experience as IT Support at Luxottica:



-Provide support for the sta at the stores over the phone and live chat





-Use Mitel phones systems to keep track of stores issues





-Use Service Desk to track issues





-Escalate issues to the appropriate department





-Fixing Windows computer in the office





-Help install physical hardware in the office




One Year as Retail Sales Specialist at Sunglass Hut:



-Providing excellent customer service





-Knowledge about the business as well as the products





-Working with customers under stressful situations, both in-store and on the phone





-Escalating issues to head office when needed





-Talking on the phone with other stores, to check product supplies across different regions





-Offering products by displaying knowledge of the brands and products





-Organizing incoming stock





-Counting stock daily at EOD




6 months of experience as a Python developer intern at GownTown, a startup based in Sydney.



-Writing Python scripts to interact with BigCommerce API





-Pulling historical data for orders, products, and the customer using Python scripts





-Plotting data in Excel spreadsheets





-Writing scripts to change the data into a Python dictionary





-Storing the data into a local MySQL database